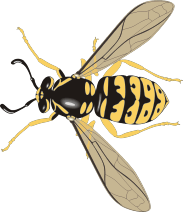 Vespula spp.
Yellow Jacket

Characteristics ÿý
Size: About 3/4-to 1-inch in length.

Color: Generally small wasps with black and yellow stripes.

Behavior ÿý Yellow jackets are social insects that live in colonies containing thousands of individuals. Colonies are usually started by a single queen in the early spring, and are very small for the first couple of months. By midsummer, a colony located on or near a house is usually large enough to become a nuisance. These wasps will aggressively attack when their nest is disturbed, and can inflict painful stings. Unlike the honeybee, which stings only one time and then dies, a single yellow jacket can sting many times. Yellow jackets are scavengers and can be beneficial when located in a wooded area or a field. Colonies located in or near a home, however, can pose a threat to the persons living in the house. When this situation is discovered, the colony or colonies should be eliminated. Because of the danger involved in treating these nests, only a professional such as Patrick's Pest Control should attempt to treat them. Should a colony be discovered, contact Patrick's for professional for assistance.